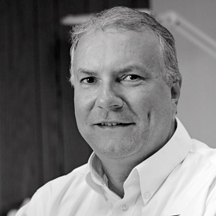 Telecommunications Engineer
With a focus on transmission and access networks, Brian uses his practical, hands-on experience with the latest technologies to bring our clients' projects from initial inception to successful conclusion.
Brian provides extensive expertise in technologies such as IP/Ethernet, IPTV, FTTP, CWDM/DWDM, SONET, ATM, and xDSL. He develops efficient and cost effective networks for deployment of services including IPTV, VoIP, internet access, and distance learning, as well as more traditional telecommunications services.
From minor system enhancements through extensive multi-exchange green-field deployments, Brian develops detailed system designs, equipment lists, performance specifications, and installation requirements. Through close interaction with client personnel, Brian assists with contract administration, project coordination, installation verification, system turn-up, testing, and problem resolution.
Brian has been with RVW since 1995 and has over 20 years of engineering experience. His first-hand experience in deployment of numerous successful projects provides valuable insight to anticipate and overcome real-world difficulties.
PROFESSIONAL DEVELOPMENT
A.A. Pre-Engineering, Rochester Community College, Minnesota
B.S. Electrical and Electronics Engineering, North Dakota State University, Fargo
Continuing education in university level business courses
RUS engineering and management symposia
Association of Communication Engineers technical symposia
Numerous IP, FTTP, DSL, ATM, and other technology seminars
Completed ACEC Engineering Leaders Program

PROFESSIONAL ASSOCIATIONS
National Society of Professional Engineers
Nebraska Society of Professional Engineers – Northeastern Chapter – Past President


SPECIAL DISTINCTIONS
Registered professional engineer in Nebraska and Kansas
Presenter at numerous national and regional seminars on IP/Ethernet Transport, IPTV, FTTP Deployment, and Practical ADSL Deployment
Young Engineer of the Year, Nebraska Society of Professional Engineers, Northeastern Chapter
Tau Beta Pi Engineering Honor Society


SPECIAL INTERESTS
Brian is an avid outdoorsman and enjoys hunting, fishing, and camping with his wife, Kathy, and two children, Jonathan and Laura.