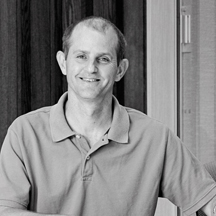 Telecommunications Engineer
Since joining RVW in July of 2008, Mark Pflum has been working with clients on Cable TV systems, Fiber-to-the-Premises designs, and Central Office Electronics (FTTP, Transport, and Switching electronics). Mark starts by listening to the client's needs to define the system requirements. He then develops detailed designs and equipment lists that meet the client's requirements. As part of the design process, Mark works closely with the client to weigh the benefits of options whether they are cost or technology centric to provide the best design for the client.
The services don't stop there. Mark puts together the "Request for Proposals" and summarizes and discusses the responses with the client so that an informed decision can be made. Mark also assists in contract administration and project coordination.
Prior to joining RVW, Mark worked for Motorola, Inc. as systems engineer. He started out working in Motorola's satellite communications division. Mark worked on the Celestri and Teledesic program which were sometimes referred to as "The Internet in the Sky". Mark then spent the last 8 years of his career at Motorola working in their CDMA infrastructure division.
Mark worked on CDMA 1X and EVDO Rev 0 and Rev A system level requirements, requirement verification through lab and field testing, and the development of system level simulations that emulated these networks end to end. Mark's specialties in working and developing these technologies were power control and hand off algorithms and system optimization techniques to maximize system capacity and system throughput.
SPECIAL DISTINCTIONS
Mobile Power Reduction Method for Mobile Communication, Patent No. US7,076,265
Power Control Method for Handling Frame Erasures of Data in Mobile Links, Patent No. US7,224,994-B2
Motorola Scientific and Technical Society Membership Award/li>
Motorola Certificate of Achievement
PROFESSIONAL DEVELOPMENT
Licensed as a Professional Electrical & Computer Engineer in the states of Kansas, Nebraska and with NCEES.
B.S. Electrical Engineering, University of Nebraska-Lincoln.
M.S. Electrical Engineering, University of Nebraska-Lincoln./li>
Electrical Grounding of Communications Systems – University of Wisconsin-Madison.

PROFESSIONAL ASSOCIATIONS
Nebraska Society of Professional Engineers

SPECIAL INTERESTS
Mark enjoys playing basketball, home remodeling, spending time with his family, and watching college football.