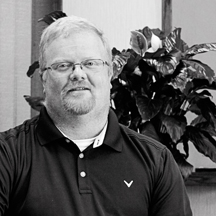 Project Coordinator/Outside Plant
In 1998, Sean Kraus began his telecommunications career by entering a two year technical college. Part of the college program required a four month internship within the telecommunications industry, which Sean completed by working for Nortel Wireless' – CDMA and TDMA Divisions performing switch installations as well as provisioning and testing of cell sites. Upon completion of technical college, Sean worked for Williams Communications as a Maintenance Engineer responsible for the turning up, testing, and trouble shooting of Nortel OC-48 and OC-192 fiber optic systems. Sean joined the RVW team in mid 2000 as a staker and construction observer. In 2001 Sean became a Resident Engineer responsible for on-site engineering activities for Fiber-to-the-Home and Fiber-to-the-Node projects and, over the last nine years, has gained extensive experience in all aspects of OSP project development.
As project coordinator, Sean works closely with project owners in the planning process—defining goals, schedules and equipment preferences. He develops the plans and specifications for OSP projects and coordinates contractor selection recommendations, bid letting, negotiations and contract administration.
Sean coordinates all aspects of OSP project development, supervising field personnel, troubleshooting and facilitating all client-contractor interaction.
PROFESSIONAL DEVELOPMENT
Associate in Applied Science Degree, Communications Technology, Colby Community College
Diploma in Communications Technology, Northwest Kansas Technical School
Association of Communications Engineers seminars./li>
Storm water Management Classes, Red Rocks Community College.

SPECIAL INTERESTS
Sean has been an active member of his local VFW post, the Relay for Life, and is an avid sprint car racing team member and fan.